Acute Care
Acute care services provide immediate treatment of non-emergency illnesses and minor injuries. Our providers at Catawba Valley Primary Care are here for your acute needs.
If you are battling the flu, a sore throat, a urinary tract infection, or a sprained back, our primary care team at Catawba Valley Primary Care is here to provide same-day care.  
Our providers can address a wide range of acute care concerns, including, but not limited to: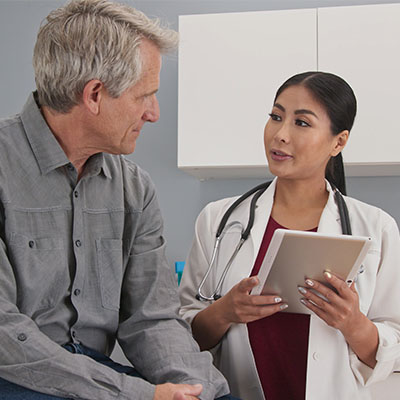 Acute care services are available in our Primary Care clinic at 327 1st Ave NW in Hickory. Hours for our acute services are 8 a.m. to 5 p.m., Monday thru Friday. Call (828) 695-5900 with any of your acute care needs.
Deciding Whether You Have an Acute Condition or an Emergency
Most of the time, it is easy to decide if a health condition is not an emergency (a life-threatening condition) that requires an immediate trip to an emergency room. But sometimes, it is not so easy to decide if your health concern is acute enough to warrant a same-day appointment or a call to your provider. You wonder if you can just take a wait-and-see approach. Perhaps you are busy with work or do not feel like driving to the clinic or calling your provider? But should you?  
Maybe you are sick and your temperature has spiked, and you cannot seem to get it under control. Or maybe you have been nursing a skin burn or laceration for a couple of days, but it suddenly feels more painful. 
When in doubt, call our primary care clinic. The examples above are why our acute care services exist– to address your immediate need, or at the very least, put your mind at ease.
We want to hear from you when you have medical concerns so we can guide your care. Our nurses can answer your questions and determine if and when you should be seen by a primary care provider or if you need to go to an emergency department.
Emergency Room Visits vs. Acute Care Visits
If your health condition is life-threatening, you should immediately call 911 or go to your nearest emergency department.
Acute care services are for those conditions that feel urgent and worrisome but are not life-threatening. 
Minor injuries, sudden illnesses, worrisome pains, or a high temperature are often acute conditions that may be treated faster and more appropriately in an acute care clinic instead of busy emergency room with a long wait. 
Contact us at Catawba Valley Healthcare if you have, or think you might have, an acute condition. We can answer your questions and will attend to your health care needs as quickly as possible.
If our clinic is not open at the time of your acute need, go to an urgent care center. Our primary providers will be here during regular clinical hours to follow up with you after your urgent care visit. Your provider can pick up where your urgent care visit left off to manage your recovery and get you back to full health again.
Call us today at (828) 695-5900 to be seen for your acute care needs.