LifeSkills Program
The Catawba Valley Healthcare Life Skills program is a day program that provides independent living skills and pre-vocational training opportunities for individuals with mild to profound intellectual developmental disabilities. The program assists individuals who need help developing essential work, social, and daily living skills. 
Our trained staff evaluate participants' existing level of functioning and help them build on their skills in a positive, nurturing way that promotes their success.
For any questions or enrollment information, contact Kandi L. Dubuque at kdubuque@cvhnc.orgor contact the Life Skills program at (828) 695-2150.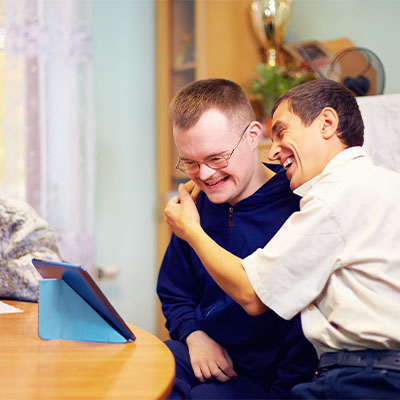 Typical activities at LifeSkill include:
Habilitation training

Community outings

Recreational activities

Exercise programs and creative movement

Arts and crafts

Computer education

Sensory stimulation

Simple cooking

Pre-vocational training
The LifeSkills program resides in our state-of-art facility at 3060 11th Avenue Drive, SE, Hickory, NC 28602, off Fairgrove Church Road.
The LifeSkills program is open Monday-Friday, 8:00 a.m.- 3:00 p.m.
Life Skills provides the best service for our son. The staff is very loving and caring. J. learns skills that are needed in everyday living from self help to cleaning up after himself to money management. The program has made a great difference in our quality of life. Without this day program for J. I would not have been able to maintain my job. A BIG THANK YOU to all the staff at Life Skills.
This program has given mom some free time and has given my daughter a sense of independence. She loves feeling that she has a place to go to be able to mingle with others and learn new things. She has a great worker who takes very good care of her, I feel that she is in good hands.
Life Skills has greatly enriched K's life. She looks forward to going to school each day. The staff is above average and cares about her needs. The activities are well planned and she loves participating. The friends she has made are priceless to her life. A terrific program!