Individual, Group,
and Family Therapy
Individual, Group,
& Family Therapy
Therapy for our brains, also referred to as psychotherapy or talk therapy, entails talking about your issues with a mental health professional. In treatment, you will learn about your condition, how the human brain works, and how it affects your moods, feelings, thoughts, and behaviors. You will gain insights and knowledge, as well as coping and stress management skills.
There are many types of therapies.  Different approaches work for different people. Sometimes therapy can be completed in a few months. In other cases, you may need longer-term, or an ongoing lifetime treatment. Therapy can take place individually, in a group, or with family members.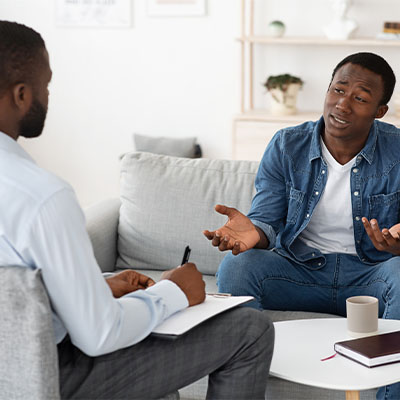 Choosing a therapist who is the right fit for you is very important. It may take time and a few tries. You need someone you feel truly understands where you have been, your current situation, and where you want to go with your therapy.
Therapy can be experienced in private, couple, family, and group settings. Individual therapy, meeting one-on-one, can occur with a therapist, counselor, or social worker in their office or over the internet. 
Couple and family therapy can involve one or more members of your family–your spouse, children, or perhaps siblings. 
Group counseling consists of talking sessions with other individuals suffering from the same, or different, emotional or mental stresses.
Often individuals find it helpful to be involved in different forms of therapy all at the same time. You and your healthcare providers can determine together which therapies might work best for you.
Call our centers for more information on our mental health care providers, therapies, and treatments.
Hickory Healthcare Center phone number: (828) 695-5900
Morganton Healthcare Center phone number: (828) 624-1900