Medication Management
While medications do not cure brain illnesses, they can often improve symptoms significantly. They can also help make other treatments, such as talk therapy, more effective. The best medication will depend on your unique situation and how your body and brain respond to particular treatments.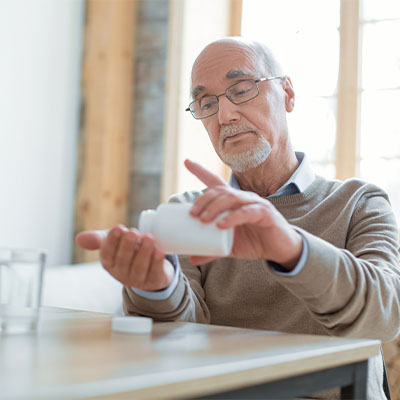 Some of the most commonly used classes of prescription medications include:
Antidepressants

are used to treat depression, anxiety, and sometimes other conditions. They can help improve sadness, feelings of hopelessness and disinterest in everyday activities, lack of energy, and difficulty concentrating. Antidepressants are not addictive. They do not cause dependency.

Anti-anxiety medications

are used to treat anxiety disorders, such as generalized anxiety disorder or panic disorder. They can help reduce agitation and insomnia. Long-term anti-anxiety drugs are often antidepressants that also work for anxiety. While fast-acting anti-anxiety drugs can help with short-term relief, they also have the potential to cause dependency. So, ideally, fast-acting drugs are best used in the short term.

Mood-stabilizing medications

are commonly used to treat bipolar disorders, which involve alternating episodes of mania and depression.

Antipsychotic medications are typically used to treat severe disorders, such as schizophrenia. These medications may sometimes be used to treat bipolar disorders or might be used with antidepressants to treat depression.
Talk to your providers about your medication preferences and concerns. When you start taking medication, follow your provider's instructions carefully and keep notes on how you are feeling. Your provider may need to make adjustments early on or as the weeks go by. Medications often take time to take effect, so be patient. 
If you have any questions or concerns about your medications, call your provider at one of our health care centers:
Hickory Clinic: (828) 695-5900
Morganton Clinic: (828) 398-4147
Burke Clinic: (828) 624-1900

Note that the Burke clinic only offers medication management unlike the Hickory and Morganton locations that also offer additional clinical services.