Women's Health
Women's health care at Catawba Valley Healthcare includes annual well-woman exams, gynecological exams, acute and chronic care, and mental health care.
Catawba Valley Healthcare providers treat the whole person- body and mind-  and believe in a preventive and proactive approach to medicine. We deliver our care with your unique needs and privacy in mind.
Our comprehensive health care services for women and men cover a wide range of acute and chronic medical conditions which can be found here on our primary care services page.
In addition to the medical conditions listed on our primary care page, we focus on these conditions that are unique to our female patients: 
A well-woman exam

done annually, including breast exam and  pap smear 

Menstrual disorders

, including irregular, painful, or heavy periods

Vaginitis

, yeast infection, urinary tract infection 

Polycystic ovary syndrome (

PCOS)

treatment and management

Contraception

for birth control and menstrual management

Sexually transmitted infection (STI)

screening and treatment

Urinary incontinence

 

Uterine Prolapse

Menopause symptoms

 

Hormone replacement therapy (HRT)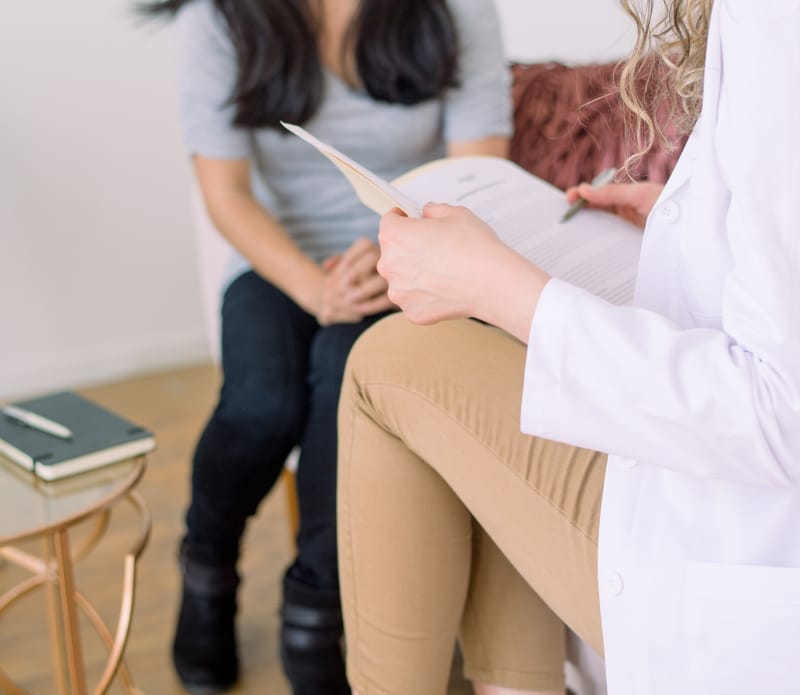 Well-Woman Exam
Annual physical exams for women, also known as well-woman exams, are designed to check a woman's overall health. During this exam, all body organs and systems are covered, including female reproductive organs and reproductive issues. Annual exams are essential for the early detection of any health concerns.
How to Prepare for a Well-Woman Exam
Annual well-woman exams typically begin with the following items: 
Medical history updates

. These updates include your and your family's medical history, including disease history and any family or personal substance addiction issues. Your provider will also review and make a note of all medications or supplements you have been, or are currently, taking regularly. Your lifestyle habits will be updated, including exercise, alcohol consumption, and any drug use. You should also mention any health concerns you might have at this time.

Heart and lung exam

. Your provider will use a stethoscope to listen to your heartbeat and breathing to note any abnormalities.

Head, neck, throat, and abdominal exam

. Your provider will use their hands to check for any sensitivities or abnormalities and will likely hold your tongue, or use a tongue depressor, to examine the inside of your mouth and throat.

Neurological exam.

Your provider will likely hit your knee with a small mallet to check your reflexes, and you may be asked to push or pull using your hands and feet to check for strength and balance.

Skin exam

. While not as thorough as an exam by a dermatologist, your provider will look over your body for any abnormal moles, rashes, lesions, or spots on your skin.

Lab work

. Your provider may order blood samples to check your cholesterol, blood sugars, lipids, or vitamin D level, among other needed readings.
All of the exams and tests above provide an overall picture of your health and are typically part of the annual exam for both women (and men). If your provider discovers any irregularities, they will follow up on them immediately or refer you to the appropriate specialist.