Important COVID-19 Updates
Catawba Valley Healthcare follows  covid-19 guidelines from the Center for Disease Control. We ask all of our patients and community members to do the same. 
If you have covid symptoms and have a scheduled primary care or therapy appointment, please consider moving your appointment to a telehealth appointment. Call our office at  (828) 695-5900.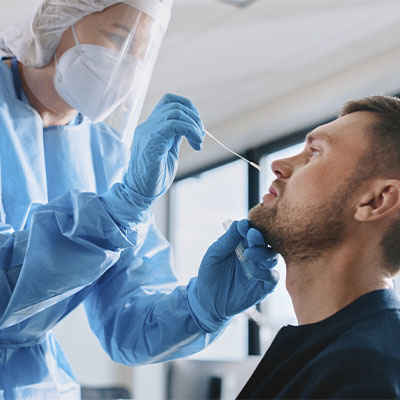 Doing your part includes getting vaccinated as soon as possible if you are not already vaccinated. 
If you have reasons to believe that you should not be vaccinated, contact our clinic for an appointment or a phone conversation with one of our healthcare providers. Our providers will listen and talk with you regarding your reasons for not getting vaccinated. We want to make sure your decision is grounded in science, research, and data, and is the right decision for your medical profile. We want to ensure your safety and the safety of others. 
Call our clinic today to talk to a healthcare provider about vaccination at (828) 695-5900.
COVID-19 Symptoms
People who have contracted COVID-19 have presented with a wide range of symptoms which typically appear 2-14 days after exposure to the virus and include the following: 
Fever or chills

Cough, sore throat, congestion, or runny nose

Shortness of breath or difficulty breathing

Fatigue

Muscle or body aches

Headache

New loss of taste or smell

Nausea or vomiting

Diarrhea
The above list does not include all possible symptoms. The CDC continues to update this list. Older adults and people with severe underlying medical conditions like heart or lung disease or diabetes seem to be at higher risk of developing more severe complications from a COVID-19 infection.
If you are experiencing serious complications from Covid-19, call 911 or go to your nearest emergency room.
The Top 10 Reasons to Get Vaccinated Against Covid-19:  
The vaccines are virtually painless, 95% effective, and free of cost.

Hospital visits due to covid are painful, expensive, and can end in death.

Getting the vaccine will protect you, protect others, and will help society return to normal as soon as possible. 

Vaccine research and the development of safe and effective vaccines have been going on for years. The Federal Drug Administration (FDA) has fully approved the Pfizer vaccine. The FDA has already approved the other vaccines (Moderna, for example) for emergency use and is doing a further review at this time.

Vaccine trials on more than 40,000 people have had few adverse side effects. 

The vaccines do not use live viruses, which means they can't give you COVID-19. 

Monitoring by State and Federal officials will be consistent with existing HIPAA confidentiality guidelines.

People were once hesitant about getting smallpox, measles, and polio vaccines. Still, most people now get these vaccines readily. The result: these diseases have all been but eliminated around the world.

Medical experts agree that any possible risks with getting a COVID-19 vaccine are much lower than the risks of becoming seriously ill or dying from COVID-19. There have been over 670,000 deaths due to COVID-19 in the U.S. and over 1.7 million worldwide.

The development of COVID-19 vaccines included all of the proper steps needed to ensure their safety and efficacy. (Note that medical experts advise people with severe allergic reactions to vaccines or injectable therapies not to take the Pfizer vaccine at this time).
The bottom line: Taking the COVID-19 vaccine could save your life, the life of a family member, friend, and co-worker, and the life of someone you interact with as a customer or client.
For more information:
https://covid19.ncdhhs.gov/vaccines
https://www.uab.edu/news/youcanuse/item/11771-debunking-the-myths-about-the-covid-19-vaccine
https://www.cdc.gov/coronavirus/2019-ncov/vaccines/faq.html
https://www.mayoclinichealthsystem.org/hometown-health/featured-topic/covid-19-vaccine-mythsdebunked?linkId=106852374