Mental Health Treatments
There are many different mental health illnesses (also known as brain illnesses), including depression, anxiety, substance use dependency, eating disorders, schizophrenia, and bipolar, among others. Here at Catawba Valley Healthcare, our experts treat a wide range of mental health/brain illnesses.
All of our treatment services begin with a comprehensive evaluation that will allow our specialists to develop the best person-centered treatment plan possible for your unique needs.
Mental Health Evaluation
(also known as a Psychiatric Evaluation)
It can take time and patience to arrive at the correct mental health/brain illness diagnosis. The more information your health care providers have about the challenges and symptoms you are experiencing, the better you and your medical team can work together to evaluate your symptoms and decide on the appropriate treatments.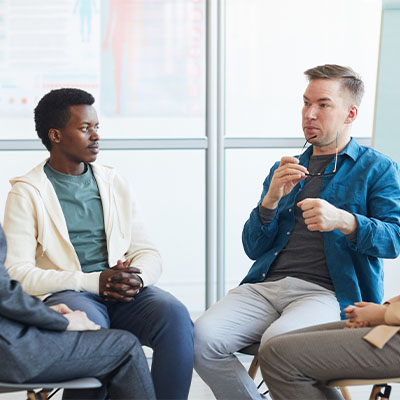 Preparing for your Mental Health Evaluation/Psychiatric Evaluation
After scheduling your first appointment to talk about your mental health/brain illness with your primary care provider or one of our therapists, it is helpful to prepare. Jot down your symptoms and questions. Consider bringing a family member or friend to your appointment, or permit them to sit in on your conference call. 
Before your appointment, make a list of: 
Symptoms

that you or people close to you have noticed

,

and for how long

Key personal information,

including significant family history, any traumatic events in your past, and any current, major stressors that may have contributed to your illness

Medical information,

including all physical or mental health conditions

Medications

that you are taking, including supplements
Questions to ask at your appointment may include:
Why can't I seem to control my emotions or behaviors on my own?

Do you think there are medications that might help?

Will talk therapy help?

How long will treatment take?

What can I do to help myself?

How might you categorize my mental/brain health issue?

What literature or websites might you recommend?
During your appointment, your professional providers are likely to ask you questions about your mood, behaviors, and thoughts, including:
When did you first notice symptoms, and how long have you had them?

How is your daily life affected by your symptoms?

What treatment, if any, have you had in the past?

What have you tried on your own to feel better or control your symptoms?

What things make you feel worse? Better?

Are family members or friends worried about you? 

Do you have any blood relatives with any chronic or episodic brain illnesses or mental health issues?

What do you hope to gain from treatment?

What medications or over-the-counter herbs and supplements do you take?

Do you drink alcohol or use recreational drugs?
Your provider or therapist may ask additional questions based on your responses and symptoms.
Mental Health Treatments
The best treatment plan for a brain illness/disorder or mental health illness depends on several variables, and in many cases, a combination of treatments might work best. If you have a mild mental health or brain illness with well-controlled symptoms, you might find that working with your primary care provider who can prescribe medication and talking with a therapist, is everything you need to get on the path back to your usual sense of well-being. 
However, if your mental health/brain illness is more complicated, a team approach is often needed to ensure that all your medical and social needs are met. A team approach is usually critical for severe brain illnesses, such as Schizophrenia, Bipolar, or Severe Depression. In situations like these, your treatment team might include your: 
Primary Care Provider, Nurse Practitioner and Physician Assistants 

Psychiatrist, a medical doctor who diagnoses, prescribes medications, and treats brain/mental illnesses

Therapists, such as a psychologist or a licensed counselor

Pharmacist who can answer questions about your medications

Family members, spouses, partners, or close friends who can support you

Social Worker who can meet with you regularly

You, as no one knows you better!
Hospital and Residential Treatment Programs
Sometimes a mental/brain illness comes on very acutely or severely. You, or someone you love, might need care immediately because you cannot care for yourself properly. Or you are in immediate danger of harming yourself or someone else.
In some cases, an illness may be so severe that a doctor or loved one may need to guide your care until you feel well enough to participate in decision-making.
In emergency cases, in-house care may be a good option, including 24-hour in-patient care, partial or day hospitalization, or a residential treatment program that offers a temporary supportive place to live and receive therapy. Our specialists can talk about these options with you.
If you feel you or a loved one needs assistance immediately, please call our Mobile Crisis team and we will have a clinician come out to where you are. This clinician can help you decide the best course of action, whether that is going to the hospital or getting you an urgent appointment with one of our other providers. 
Mobile Crisis: (828) 695-2511
For non-emergency questions and guidance, call one of our centers:
Hickory Healthcare Center phone number: (828) 695-5900
Morganton Healthcare Center phone number: (828) 624-1900
Hospital Discharge Services
CVH collaborates with Catawba Valley Medical Center to support patients who are being discharged. That might mean transitioning you to therapy, a primary care doctor, or an outpatient or residential living service. 
For patients discharged from CVMC, we will help you, along with your family members, address non-medical issues that often create barriers to attending your critical health care follow-up appointments. We can assist with housing issues, transportation, food needs, employment, and more.
Substance Misuse Treatment
Issues around substance use often occur with mental illness and can interfere with your treatment efforts. If you, or a loved one, is having a problem controlling the use of illicit or prescription drugs, call or schedule an appointment today. 
Habits to Adopt and Practice During Treatment
In most cases, mental health illnesses will not get better without professional care. It is very hard to treat mental illness yourself. Still,  there are things you can do to build on the treatment plan your providers set up for you, including: 
Stick to your treatment plan

and do not skip therapy sessions. If you are feeling better, do not skip your medications. If you stop therapy or medications without the guidance of your healthcare team, your symptoms could return, or you could suffer withdrawal-like symptoms. Talk to your provider before making any changes. 

Avoid alcohol and recreational drug use

during treatment as use can interfere with your treatment. If you do have an alcohol or drug addiction, quitting can be a real challenge. Contact your provider. 

Stay active.

Exercise can help manage symptoms of depression, stress, and anxiety. Even light physical activity can make a difference.

Make healthy choices

by maintaining a regular schedule that includes sufficient sleep, healthy eating, and regular physical activity.

Don't make important decisions when your symptoms are severe

as you may not be thinking clearly.

Determine priorities

by making a list of daily tasks or use a planner to structure your time and stay organized.

Learn to adopt a positive attitude

by focusing on the positive things in your life. Staying positive takes practice but can improve your health. 
Learn about your mental illness.

Your provider or therapist can provide you with information or may recommend classes, books, or websites. Include your family members, too, as this can help the people who care about you understand what you're going through and learn how they can help.

Join a support group.

Some people find that connecting with others facing similar challenges can help a great deal. Ask your provider and therapist for groups in your area or online groups.

Stay connected with friends and family.

Ask for help when you need it, and be upfront with your loved ones about how you are doing.

Keep a journal.

Jot down brief thoughts or record symptoms on a smartphone app so you can keep track of things that trigger you or improve your symptoms. Keeping a journal is also a healthy way to explore and express pain, anger, fear, and other emotions.
Call us at Catawba Valley Healthcare for an evaluation and treatment plan today. We look forward to helping you feel and be your best self. Call us at (828) 695-5900.